​
Welcome — and thank you for your interest in the Center for Teaching & Learning, a private school serving The Woodlands, Texas area.
We offer transformative learning experiences for children in grades Pre-K through 11th, incorporating best practices and learning philosophies to unlock individual potential.
Our goal is to guide children on their path to becoming lifelong learners. We invite you to explore the CTL family and experience.
​
If you have any questions or would like to speak with someone about what the Center for Teaching & Learning might mean for your family, please reach out to us at 832-474-8214 or email us here.
APPLICATION PROCESS FAQS
How to Apply
---
Schedule an appointment for a school tour with the Head of School, Dr. Linda Ellis by emailing lellis@centerforteachingandlearning.com or calling the school office at (832)-474-8214. Complete an online application with a $250 non-refundable fee. Applications and payments are processed through RenWeb. Click the link to get started. ​ Note: An online application, fee payment and school tour places the student in the applicant pool. Unless removal is requested, the child's application remains on file, and he or she will be considered for admission to CTL at the appropriate time.
---
Admisson Policy
---
Up to 10 students in grades Pre-K and K and 20 students in each multi-age classroom in grades 1-2, 3-4, 5-6 and 7-8 will be accepted. High school classes will be limited to 20. Applicants are accepted to enroll until all slots are filled. The admission policy weighs the following criteria:
The date of the original application
Our assessment of the appropriateness of our program for the student
A sense of how the child will fit in with the rest of the class group
Parental support for CTL's curriculum
CTL aims to strike a balance in the ratio of boys to girls. The school does not discriminate on the basis of race, religion, or national or ethnic origin. CTL is a small, non-profit school without the financial resources to provide a special education teacher and separate program for children who may require such services.
---
Tuition & Fees
---
Tuition for the 2021-2022 school year is ​ $13,200 annually for Pre-K $14,350 annually for grades K-8 $14,500 annually for grades 9-11 Tuition costs may be divided into 12 equal payments due the first day of each month (June 2021 through May 2022) or 10 equal payments due the first day of each month (August 2021 through May 2022). Enrollment Deposit A non-refundable enrollment deposit of $1,200 per student is due in full to hold a spot for your child at CTL for the 2021-2022 school year. This fee will be applied toward your annual tuition. ​ Discounts A 10% discount is available for siblings who also enroll at CTL. A 5% discount is available if you refer a student who enrolls at CTL for as long as the student is enrolled. A 2% discount is available if annual tuition is paid in full by June 1, 2021.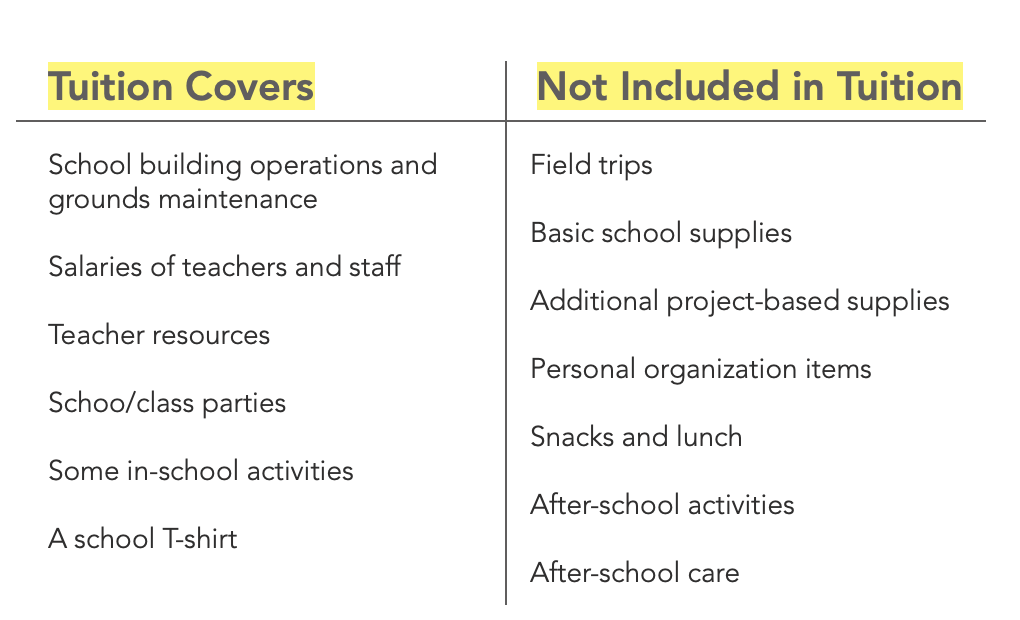 ---
---